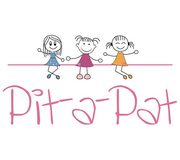 Pit A Pat
Pit a pat, those quick light steps that your toddlers take to explore the world around them, made more delightful with stylish and comfortable footsies or shoes.

Pit-a-Pat offers parents a wide selection of stylish toddlers' footwear for any occasion, ready for your kids' to put their best foot forward!

Our shoes comes in a wide selection of colours and sizes, you can definitely find one that meets your needs.
Venue: Singapore Expo Hall 5
11 - 12 Jan 2019 (11am-9pm) | 13 Jan 2019 (11am-8pm)