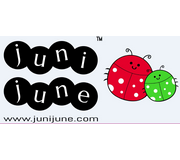 Juni June


juni june USA focuses on quality and yet reasonably priced baby products. Its range of products includes fabric play yard, Natural Fun bouncer, Easy-Hook portable high chair and premium PVC play mats.

One of the all-time favourite is the juni june Deluxe Fabric Play Yard from USA. It is the perfect place to keep your precious one in a baby safe environment while you attend to other things. It includes a matching, fitted and soft padded play mat that is secured to the fully padded frame for safety.

Comes in 2 sizes and 4 colors, it is one of the best 'legless' fabric play yards in the world!

juni june has been creating premium baby products for various years by carefully studying what matters most to parents and babies.
Venue: Singapore Expo Hall 5
11 - 12 Jan 2019 (11am-9pm) | 13 Jan 2019 (11am-8pm)