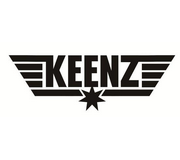 KEENZ

KEENZ SG is proud to announce the arrival of the next generation foldable wagon-strollers!

If you visit Korea, you will very likely bump into parents pushing 1 or even 3 kids in unfamiliar looking carts that look like wagons and strollers at the same time. That is basically a wagon-stroller! As the name implies, it is a crossover between a stroller and a wagon. And the No. 1 worldwide leader of such innovative product is KEENZ!

KEENZ took Korea by storm back in end 2015 and is quickly absorbing the traditional stroller market. It creates a new market for baby wagon-stroller that can be used even after babies outgrow normal strollers. KEENZ is now recognized as an industry leader in developing safety, reliable and high quality wagon-strollers.

With worldwide patents and being designed and engineered in Korea, it must be a KEENZ!
Venue: Singapore Expo Hall 5
11 - 12 Jan 2019 (11am-9pm) | 13 Jan 2019 (11am-8pm)