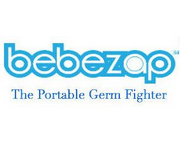 BebeZap
BebeZap™, The Portable UV Sterilizer was launch in January 2015 by a mother of 4. She is also the brand owners and distributor of several other brands.

Knowing that Singaporean parents are always on the go, having a portable UV steriliser will definitely helps.

It is very convenient and easy to use and small enough to bring out especially with so many items to bring along in the diaper bag.

BebeZap has been tested to eliminate 99.9% of bacteria, BPA, Lead and Phthalate free in acordance to CPSIA requirements.
Venue: Singapore Expo Hall 5
11 - 12 Jan 2019 (11am-9pm) | 13 Jan 2019 (11am-8pm)