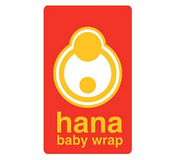 Hana Baby
Hana Baby (UK) is a wraparound baby sling that offers full head and neck support to your baby.

It is exceptionally suited from birth until one, but can be used for longer, as long as both baby and wearer are comfortable using it.

Hana Baby Wrap is also great for cooler days though, as bamboo keeps you warmer in colder weather too.

Bamboo fabric has a natural UV filter.

Bamboo fabric is cashmere soft, naturally anti-bacterial and hypoallergenic, making it the perfect choice for your baby.
Venue: Singapore Expo Hall 5
11 - 12 Jan 2019 (11am-9pm) | 13 Jan 2019 (11am-8pm)