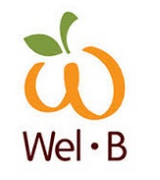 Wel B
Oil-free and food additive-free, Wel-B is a real healthy snack that keeps the nutrition at its utmost.

As our own names, our company is called the "Joe-Ry family".

Our friendship is as strong as that of a family, hence our familial philosophy.

That is to select the best, the safest, and the healthiest for our family members and everyone who wants to be part of us.
Venue: Singapore Expo Hall 5
11 - 12 Jan 2019 (11am-9pm) | 13 Jan 2019 (11am-8pm)