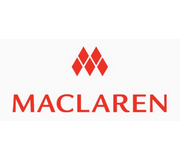 Maclaren

What a mother wants, what a baby needs.

In 1965 in rural England, a former test pilot and aviation engineer famous for his work on the Spitfire aircraft, Owen Finlay Maclaren used his knowledge of lightweight load-bearing airplane structures to create a new type of folding stroller inspired by visits from his daughter and her baby wheeling around a bulky pram of the time.

Maclaren recognized the need for a pram that could fold compactly and was lightweight and convenient for travel for a new generation of active families.

Dedicated to creating innovative and desirable products of the highest quality and standards, Maclaren is at the forefront of style and safety trusted by parents around the world and leading in its industry in all respects.

The Maclaren brand represents luxury and prestige and provides an unsurpassed experience to consumers worldwide.
Venue: Singapore Expo Hall 5
11 - 12 Jan 2019 (11am-9pm) | 13 Jan 2019 (11am-8pm)