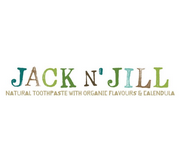 Jack N' Jill
Jack N' Jill a natural toothpaste for babies, toddlers & children that is safe to swallow

It was first made in Melbourne, Australia in 1949 and continues to be made in Australia.

Today it is available in more than 30 countries!

Jack N' Jill toothpaste is 100% safe for younger children, in particular due to the fact they have a propensity to swallow it rather than spit it out!

Venue: Singapore Expo Hall 5
11 - 12 Jan 2019 (11am-9pm) | 13 Jan 2019 (11am-8pm)