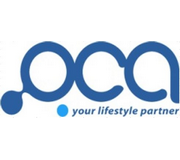 OCA
OCA is the largest organization, in Malaysia, that sells the best water-based products.

Established in 2001 by Mr William Cheng Chee Leong, the founder now acting as the Executive Director of our organization.

He dedicates his life solely to extensive research on water-based products only to provide the society with healthier alternatives of common products in the future.

Ever since OCA has been established, the organization has had an outstanding reputation with the health care community due to its in depth development on water-based products.
Venue: Singapore Expo Hall 5
11 - 12 Jan 2019 (11am-9pm) | 13 Jan 2019 (11am-8pm)