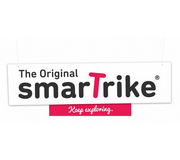 Smart Trike
Smart-Trike™ is the world leader in the tricycle field and provides smart innovative solutions to all cycling stages, babies, toddlers and pre-schoolers

Smart-Trike™ manufactures and distributes its products to more than 42 countries worldwide.

Smart-Trike™ products are convertible, multifunctional and grow with the child from 6 &10 months to 36 months and up.

It constantly strive to improve on their award winning innovation so to allow consumer to enjoy a smoother ride, effortless steering, durability and high quality products at an affordable price.

In addition, the products are designed for enjoyable strolls while enabling children to stimulate their senses.

We put an emphasis on comfort for both the parent and the child.
Venue: Singapore Expo Hall 5
11 - 12 Jan 2019 (11am-9pm) | 13 Jan 2019 (11am-8pm)