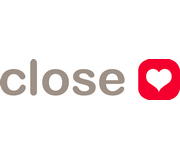 Close Parents
Welcome to Close, where our love of babywearing has inspired Caboo, the UK's premier soft carrying range, and our award winning Pop-in reusable nappy system.

Close Parent is the creator of Caboo carrier and Pop-in reusable nappies. In 2011, we have rebranded ourselves, from Close to Close Parent.

We have a passion for creating wonderfully made & honestly considered products for parents & the little miracles they nurture.

Whether you're swimming or out and about, feeding or simply making a mess together... we have it covered, with some wonderfully good ideas for great parents.

We also embraced the wants of Dad with the launch of Cocoon and Caboo DX, the daddy of soft carriers as we believe that great baby-wearing shouldn't be exclusively for Mum.
Venue: Singapore Expo Hall 5
11 - 12 Jan 2019 (11am-9pm) | 13 Jan 2019 (11am-8pm)