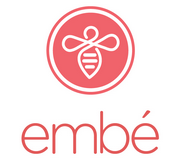 Embe
embé®... Created for Baby. Inspired by Mom™.

Embé® (pronounced ""Em-bay"") was founded in Orange County, California and is led by Founder and CEO, Jennifer Wynh. Jennifer is wife and mother of four beautiful children, having four children in the short span of five and a half years.

At embé®, we're passionate about bringing baby products to our beloved community that are as beautiful and versatile as they are safe

We are most known for our embé® 2-Way Swaddle, which we believe is the best swaddle available in the market today.

Our revolutionary design is unlike any other swaddle.

You'll fall in love with our unique and patented Legs-Out Mode, an industry breakthrough!
Venue: Singapore Expo Hall 5
11 - 12 Jan 2019 (11am-9pm) | 13 Jan 2019 (11am-8pm)