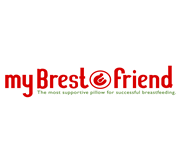 My Brest Friend

Brest Friend's patented wrap-around design has made fans in over 30 countries where it is sold, as well as being used in hundreds of hospitals & NICUS.

It is the #1 choice of lactation consultants and consistently earns raves among nursing mothers, many of whom tell us our pillow has helped them achieve longer holding and feeding cycles with their babies.

We provide the highest quality and most useful breastfeeding support products for nursing moms and babies around the world.

To help babies receive the optimum health, and pure love from their mothers. We facilitate the healthiest bonding for mom and baby, resulting in physical, emotional and psychological benefits for both.

Our stylish new prints and fabrics make My Brest Friend the perfect item to register for or give as a gift.
Venue: Singapore Expo Hall 5
11 - 12 Jan 2019 (11am-9pm) | 13 Jan 2019 (11am-8pm)