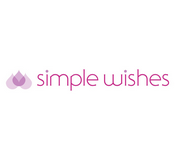 Simple Wishes
Simple Wishes Hands Free Pumping Bra!

Created by four sisters, we are a sister owned and operated business. There are six out of nine children in our family who have worked to build Simple Wishes.

As we grow, it is extremely important to us that anyone who works with or for us feels like they are an extension of our family.

We make hands-free pumping bras for moms wishing to be more productive while pumping or to simply recapture a moment for themselves.
Venue: Singapore Expo Hall 5
11 - 12 Jan 2019 (11am-9pm) | 13 Jan 2019 (11am-8pm)