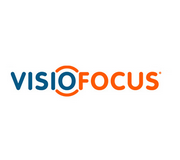 VISIOFOCUS
Measure your baby's temperature at first sight, with VisioFocus®.

Visiofocus® takes your baby's body temperature without contact and projects the temperature reading on his forehead, it simply reveals the body temperature, without ever coming in contact with the skin.

Hygienic and easy to use, VisioFocus® is the non-contact thermometer recommended by doctors and pediatricians.
Venue: Singapore Expo Hall 5
11 - 12 Jan 2019 (11am-9pm) | 13 Jan 2019 (11am-8pm)