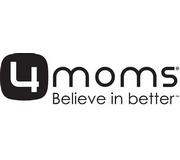 4moms
4moms is a special place. We accomplish great things and have a great time doing it.

Our mission is to develop DRAMATICALLY BETTER juvenile products and build a GREAT COMPANY. But what's that mean?

Well, dramatically better products redefine the most important attribute in their category.

Just look through our photo albums and you see that 4moms is more than a company, we're a family. We treat people like they are our most important asset, because they are.
Venue: Singapore Expo Hall 5
11 - 12 Jan 2019 (11am-9pm) | 13 Jan 2019 (11am-8pm)