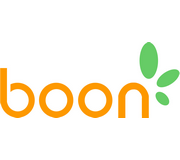 Boon
WHO IS BOON?

It's funny how such a simple thing can lead to so much. It all began with a messy toddler bathtub. Designer Rebecca Finell's wheels started turning and the Frog Pod was born.

She had lots of ideas for other parenting innovations so she sought out a partner, Ryan Fernande, who could create a successful business and together they founded Boon Inc. Today Boon offers a wide range of products that help parents all over the world.

Boon is a leading innovator, designer and manufacturer of infant and baby products. We are driven by a strong desire to create modern products that help simplify parent's lives while retaining their personal style.
Venue: Singapore Expo Hall 5
11 - 12 Jan 2019 (11am-9pm) | 13 Jan 2019 (11am-8pm)