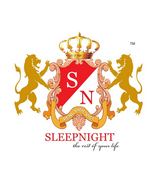 Sleep Night
SLEEPNIGHT originated from the UK, which has a team having more than 30 years of experience in making quality mattresses.

SLEEPNIGHT has gained overseas presence during the last five years, and is quietly emerging as one of the top brands in mattress for the worldwide market.

Each layer of natural latex, memory foam, high density foam or other materials and fabrics used for our mattresses are meticulously selected from all over the world.

They are manufactured to the required specification for the suitability of various sleeper groups.

They are meant to counter the possible chronic pains arising from different sleeping patterns and habits being researched.

SLEEPNIGHT mattresses are innovated creations that cares for your health, mind and body.

Venue: Singapore Expo Hall 5
11 - 12 Jan 2019 (11am-9pm) | 13 Jan 2019 (11am-8pm)