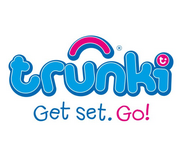 Trunki
Trunki The original ride-on suitcase!

We're Trunki and we make fun, innovative travel gear for families on-the-go.

Trunki started trading in May 2006, since then we've gone to sell over 2 million of our much loved ride-on suitcases across 97 countries worldwide.

We have a range of colourful, exciting travel products that are the ideal companions for any journey, whether it's a weekend at grandma's or a long haul flight.

We believe travel is about new experiences, creating memories and making every journey just as enjoyable as the destination.

Venue: Singapore Expo Hall 5
11 - 12 Jan 2019 (11am-9pm) | 13 Jan 2019 (11am-8pm)