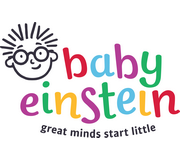 Baby Einstein
In 1996, Baby Einstein was founded by Julie Clark, a mom who wanted to share her love of humanities with her baby.

Her intent was to create products that brought her and her daughter closer as they discover the world together.

From this effort all of our products are designed to encourage discovery and inspire new ways for parents and little ones to interact.

Baby Einstein brings the world to baby with developmental products incorporating a unique combination of language, music, art, animals & nature.

Venue: Singapore Expo Hall 5
11 - 12 Jan 2019 (11am-9pm) | 13 Jan 2019 (11am-8pm)