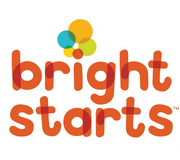 Bright Starts
Bright Starts™ Fun Comes First™

Bright Starts™ delights babies and engages toddlers with products that are fun, fresh and playful. Bringing smiles to children's faces with its colorful and inviting characters, Bright Starts offers parents affordability for all their baby's needs without compromise.

Bright Starts is a registered trademark of Kids II® Inc. Kids II has been inventing and reinventing infant and toddler toys and gear for more than 40 years and has quickly become one of the world's fastest growing baby product companies.

Headquartered in Atlanta, Kids II spans globally with operations in six continents serving customers in more than 70 countries.

Driven by innovation, design and a comprehensive brand portfolio, Kids II is the next generation leader of infant and toddler products.

Venue: Singapore Expo Hall 5
11 - 12 Jan 2019 (11am-9pm) | 13 Jan 2019 (11am-8pm)