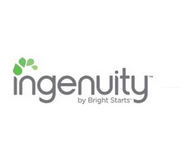 Ingenuity
Anticipating both baby and parent's needs, Ingenuity™ offers intuitive, versatile products with smart functionality that adapt seamlessly to your life with baby.

To us, it's more than designing a product, it's about everyday life for today's parents, and the little things that make a big difference.

With features like battery-saving technology, machine-washable fabrics, and even smart phone connection, it's clear why Ingenuity's mantra is ""Designed with Parenthood in Mind.""
Venue: Singapore Expo Hall 5
11 - 12 Jan 2019 (11am-9pm) | 13 Jan 2019 (11am-8pm)