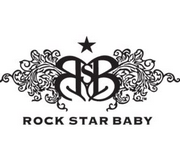 Rock Star Baby
Rock Star Baby is a line of high quality children's clothing and accessories created by Bon Jovi drummer, Tico Torres.

A lifestyle brand offering hip baby and toddler products that meet the practical needs of children, with a fresh and edgy approach.

Rock Star Baby replaces the typical pale pinks, blues, yellows and greens, with the true colors of rock, black and white, with shades of grey in between.
Venue: Singapore Expo Hall 5
11 - 12 Jan 2019 (11am-9pm) | 13 Jan 2019 (11am-8pm)