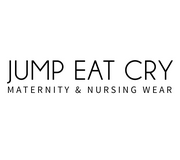 Jump Eat Cry
Jump Eat Cry story began from a dream to empower the modern expecting mother with a beautiful and elegant wardrobe.

Mothers of today are no longer like that of the previous generation. Having to deal with not only taking care of their child but also with the increased needs of today's society, the twenty first century mother can only be an inspiration to all.

By understanding that everyday clothing may not always fit the mother with an ever-growing belly, Jump Eat Cry strives to bring outfits that cater for essential comfort that lasts throughout and beyond pregnancy.
Venue: Singapore Expo Hall 5
11 - 12 Jan 2019 (11am-9pm) | 13 Jan 2019 (11am-8pm)