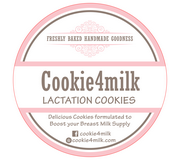 Cookie4Milk
Cookie4Milk - Healthy and Delicious Lactation Cookies & Brownies!!

Cookie4Milk Lactation Cookies should be considered by all new mothers planning to breastfeed and looking to increase healthy milk supply.

The ingredients in these fresh baked to order and yummy cookies work in a number of different ways to help moms boost and maintain their milk supply.

Hand made with love, tested by breastfeeding mummies, our delicious Cookie4milk Lactation cookies are baked full of galactagogues to help breastfeeding mothers to maintain or boost their milk supply.
Venue: Singapore Expo Hall 5
11 - 12 Jan 2019 (11am-9pm) | 13 Jan 2019 (11am-8pm)