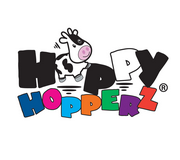 Happy Hopperz
HappyHopperz® are the most fun kids' toys since Space Hoppers, set to be the latest craze!

These ride on toys are not only great fun however, they also serve as great exercise for your kids, strengthening core muscles and improving balance.

HappyHopperz® are a collection of bright, inflatable bouncers that not only rival the space hoppers of the 1970's but take the BOUNCING to a whole new level.

With grippable ears/horns and now Wing mirrors and 4 wide steady feet/wheels to balance on, our wonderful HappyHopperz® come in a variety of different styles and colours that will give 'Old Macdonald' (+ now with the introduction of our new VEHICLE range, his Tractor too,) a run for their money!
Venue: Singapore Expo Hall 5
11 - 12 Jan 2019 (11am-9pm) | 13 Jan 2019 (11am-8pm)