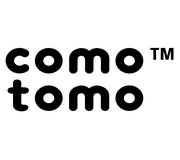 Comotomo
Comotomo bottle provides a smart, intuitive design that babies acknowledge and better respond to when transitioning from breast to bottle.

The smart design is leak-free and heat resistant, making them easy to clean and sterilize, and their design is fun and functional.

In designing our bottle, we set out resolve all existing problems with standard baby bottles.

We placed a smart, non-leaking dual air-vents to prevent colic, made a truly wide-neck design for easy cleaning, and used hygienic silicone material so that you won't ever have to worry about toxic chemicals.

Above all, our bottle is designed to mimic breastfeeding to help babies easily transition back and forth from nursing to bottle feeding.

It's rescued so many families dealing with 'nipple confusion' and 'bottle rejection' that our Comotomo mama's coined the term "Breastfeeding in a Bottle." Happy Feeding!

Venue: Singapore Expo Hall 5
11 - 12 Jan 2019 (11am-9pm) | 13 Jan 2019 (11am-8pm)