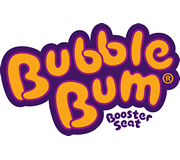 Bubble Bum
Bubble Bum -The world's first inflatable car booster seat.

This portable, lightweight, brightly coloured, inflatable booster seat for kids aged between 4-11 easily deflates and folds flat so that kids or mums can carry it in backpacks or handbags, making it perfect for holidays, rental cars, taxis, coach journeys, school trips or car pooling.

Save money on renting booster seats from car rental companies by bringing your own Bubblebum.

The compact design makes it highly portable.
Venue: Singapore Expo Hall 5
11 - 12 Jan 2019 (11am-9pm) | 13 Jan 2019 (11am-8pm)