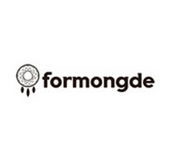 Formongde
Formongde cotton fabric is the only brand textile company in Korea.

With more than 60 years of experience, we are leading the textile industry on tradition and new technology.

Formongde uses 100% combed yarn cotton, in addition to the usual spinning process, short fibres or slides are sufficiently removed through a process called combing.

Raise your child's imagination with an illustrated pattern that can contain stories and memories between a child and his parents.
Venue: Singapore Expo Hall 5
11 - 12 Jan 2019 (11am-9pm) | 13 Jan 2019 (11am-8pm)