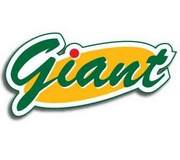 Giant
The story of Giant started in 1944, with the opening of our very first provision store in Sentul Pasar, Malaysia.

To most of our loyal customers in Singapore though, Giant first entered their lives in 2000, when we opened our very first Singapore hypermarket at IMM mall in Jurong.

Over a decade later, our presence has spread throughout the island.

We are now the country's top mass market retailer of everyday items, operating 60 stores located across Singapore from popular shopping districts, to convenient neighbourhood locations.
Venue: Singapore Expo Hall 5
11 - 12 Jan 2019 (11am-9pm) | 13 Jan 2019 (11am-8pm)