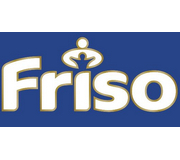 Friso
Friesland (Singapore) Pte Ltd is a wholly-owned subsidiary of Royal Friesland Foods, a company established for more than 125 years, based in the Netherlands.

Together with our member dairy farmers, we are milk experts who are continually expanding our knowledge of the applications of milk.

Such knowledge extends from the quality of the pasture land on which the cows graze to the marketing of tasty cheeses, healthy milk-based drinks and the best possible ingredients for the food and pharmaceutical industries and all steps in between.

Royal FrieslandCampina provides consumers all over the world with milk and valuable products made from milk.

The products of Royal Friesland Foods are part of everyday life, created with the aim of providing health, convenience and vitality.

Friso range of products provide nutrients that supports every stage in your child's development. You, your child and Friso growing up together!
Venue: Singapore Expo Hall 5
11 - 12 Jan 2019 (11am-9pm) | 13 Jan 2019 (11am-8pm)