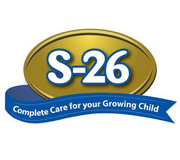 S-26
Wyeth Nutrition, formerly Pfizer Nutrition, is part of Nestlé S.A. Wyeth Nutrition develops premium-quality nutritional products scientifically-designed to meet the needs of infants and young children, as well as pregnant and lactating mothers.

At Wyeth Nutrition (Singapore), commitment to our customers is defined by dedication to quality, excellence in customer service, and decades of scientific innovation.

As pioneers in infant nutritional science, our mission is to provide the best nutritional support for future healthy outcomes.

For nearly a century, Wyeth Nutrition has leveraged clinical rigor, scientific research, world class manufacturing and product safety standards to drive scientifically-sound solutions that offer parents confidence, help nourish children and support their healthy futures.

We offer Reassurance Beyond Nutrition, Wyeth's promise to parents and healthcare professionals to provide quality formulas and nutritional products for children.
Venue: Singapore Expo Hall 5
11 - 12 Jan 2019 (11am-9pm) | 13 Jan 2019 (11am-8pm)