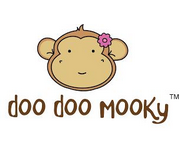 Doo Doo Mooky

Doo Doo Mooky TM – A 'Mom's Must Have' products!!! A Singapore brand, designed in Singapore.

We only distribute products we manufacture directly, this is to make sure that our products are under good quality control!

I started to find that breastfeeding can be more fun if we can create a reliable products that can solve any problem that we have during our breastfeeding journey. Not only that, if we could have more interesting design, that will be even more fun!! So…this is how Doo Doo Mooky TM was 'born'.

Doo Mooky TM Bamboo Nursing Pads have everything you need for complete protection, convenient, breathable, flexible users, comfortable, reusable and most importantly cost savings. This is highly recommended for mummies with sensitive skin, since it is naturally anti-microbial and hypoallergenic.

Doo Doo MookyTM is run by a fun loving group of committed mummies, who love parenting, and have chosen to make a career of it!
Venue: Singapore Expo Hall 5
11 - 12 Jan 2019 (11am-9pm) | 13 Jan 2019 (11am-8pm)