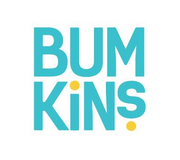 Bumkins
Where It All Began, when faced with the choice of either disposable diapers or old-school pinned cloth diapers with plastic covers, Jakki Liberman decided to create her own alternative.

By combining a soft, absorbent cloth inner layer with a colorful, waterproof cover, and replacing safety pins with Velcro, the Bumkins diaper was born.

Little did Jakki know that her creation would become popular with other mothers who loved this modern take on the traditional cloth diaper, nor did she imagine that this signature waterproof fabric would grow into a successful line of bibs, bags and other products all designed to be fun and family-friendly.
Venue: Singapore Expo Hall 5
11 - 12 Jan 2019 (11am-9pm) | 13 Jan 2019 (11am-8pm)