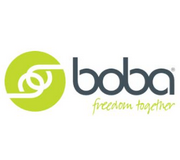 Boba
BOBA – Our story, We left Boulder, Colorado in April of 2007 and took a year off to start a business and travel the world with our 2 kids on a tight budget, and simply live. We simply gave everything we had away and just took off. Robert and I, a few thousand dollars, 2 backpacks and 2 kids.

We were adamant about finding out how to combine both work and pleasure and to really try to live it. We knew that this baby carrier idea of ours wouldn't go away and had huge potential. Yet, starting a business from scratch while traveling the world with 2 kids was something we would need to put some effort into.

We started our life together in Slovenia and then moved to Boulder, CO. America is an ideal place for souls like his as there isn't so much red tape when it comes to testing out different ventures.

We sold our first wrap when we were in wine country, rural Slovenia. We knew we had a great product. I have to say that it was so incredibly surreal that some beautiful mother came to our website, liked what we had to offer, and actually purchased a baby wrap.

A "Sleepy Wrap" as they were called back in the day before we changed it to Boba Wrap.
Venue: Singapore Expo Hall 5
11 - 12 Jan 2019 (11am-9pm) | 13 Jan 2019 (11am-8pm)