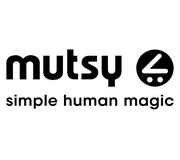 Musty

About Mutsy - Congratulations, you're having a baby. You're about to embark on the most amazing, scary yet unforgettable time of your life.

Enjoy the love and the magical moments. But remember that you will also have to find a new balance in your life.

Mutsy has been helping parents do this since 1937 by developing comfortable and reliable strollers and pushchairs that increase your mobility and make your life as a mum or dad just that little bit easier.
Venue: Singapore Expo Hall 5
11 - 12 Jan 2019 (11am-9pm) | 13 Jan 2019 (11am-8pm)