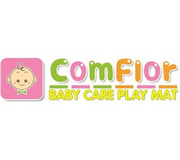 Comflor
Comflor Babycare brand belongs to Dwinguler Singapore and the mats are made by the same Korean factory as Dwinguler originating from LG Chemicals.

Comflor offers the same non-toxic quality mats as the Dwinguler premier brand.

Comflor Babycare is a safe, durable and educational playmat.

Its embossed non-slip surface provides quality cushioning and easy maintenance & storage.
Venue: Singapore Expo Hall 5
11 - 12 Jan 2019 (11am-9pm) | 13 Jan 2019 (11am-8pm)