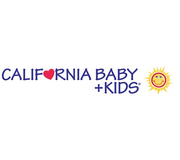 California Baby + Kids
California Baby + Kids® - Trusted since 1995.

California Baby® includes more than 80 products, a certified organic and FDA registered manufacturing operation, organic farm, major retail distribution and worldwide recognition.

What began as one new mom's quest for natural baby shampoo has grown into a beloved collection of more than 80 pediatrician and dermatologist-recommended hair and skin care products for babies, kids and sensitive adults.

Join us and our loyal fans on our mission to only create the safest natural products to soothe, nourish and smooth out life's rough patches the natural way, one baby, one kid, one family at a time.

California Kids® at a certain age, kids (ages 6+) don't want to be called babies anymore.

The new California Kids line was developed for this reason and to educate kids on how to care for their hair & skin with fun, age-appropriate packaging.

And it's just as safe and gentle as all the California Baby stuff you know and love!

Venue: Singapore Expo Hall 5
11 - 12 Jan 2019 (11am-9pm) | 13 Jan 2019 (11am-8pm)