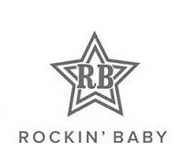 Rockin' Baby


You buy, we give - Rockin' Baby was founded in 2002 to provide stylish baby slings to fashionable moms, primarily on America's West Coast.

Kathryn Wiley saw a reputable brand delivering a high quality baby product.

She purchased Rockin' Baby in 2011, and transformed it into a one-for-one philanthropic business model. For every baby sling sold, one would be donated to an earthquake-stricken mother in Haiti.

As Rockin' Baby has grown and expanded into childrenswear, so has our mission of giving. We now partner with well-managed non-profit organizations around the world to donate slings and childrenswear to needy mothers and children.

At the forefront, always, is our dedication to helping others.
Venue: Singapore Expo Hall 5
11 - 12 Jan 2019 (11am-9pm) | 13 Jan 2019 (11am-8pm)