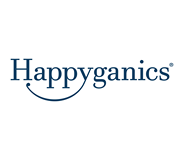 Happyganics

Hppyganics was founded 2015 in Singapore, by parents passionate in natural products that are safe for children. Our mission is to provide safe, reliable and natural products that bring happiness to everyone in the world.

Our products are designed in Singapore and made in USA using pure plant-based ingredients. They do not contain any harmful chemicals and are safe for babies and the whole family.

Our detergent prevents skin irritations and protect sensitive baby skin. It has low suds and is suitable for front or top loading standard and high efficiency washing machines. It will not leave residues that cause fabrics to be stiff after wash.

Our vision is to be a trusted global brand in all-natural products.
Venue: Singapore Expo Hall 5
11 - 12 Jan 2019 (11am-9pm) | 13 Jan 2019 (11am-8pm)