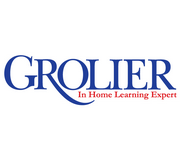 Grolier

Grolier Inc was established in 1895 in Boston, USA. Over the years, Grolier has grown by leaps and bounds into a multi-national corporation with over 70 branches worldwide, USA, Europe & Asia. Grolier's products have touched the lives of millions of people around the world, helping children to read and learn.

We have being helping parents to improve their child's English language, IQ, EQ and Knowledge. Disney Magic English, Logico, I Wonder Why and more.

Our mission is to become the leading 'In-home Learning Experts' by providing quality children's products to help parents educate, entertain and motivate their children at home.

To upkeep our long standing history and recognition as The In-Home Learning Expert, we have been making our presence felt by setting up Grolier's centres throughout the region.
Venue: Singapore Expo Hall 5
11 - 12 Jan 2019 (11am-9pm) | 13 Jan 2019 (11am-8pm)