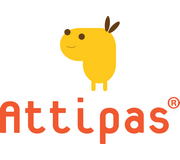 Attipas

Caroline is a banker-cum-mumpreneur who is currently learning how to juggle work, life, a preschooler, a toddler and a baby! ! Having spent the last 10 years building a career as a Project Manager in London, she decided to pursue passion over corporate after the birth of her first son Henry in 2011. Caroline introduced Attipas baby shoes into Australia in Sept 2012 and hasn't looked back.

Attipas functional infant shoes have been ergonomically designed to support first steps and thereafter, and are now available in sizes from birth to 4 years.

Unlike any other baby shoes in the world, Attipas enables the development of steady and stable walking pattern by supporting the correct angle of the leg joints and evenly distributing the weight and pressure to all parts of the feet.

Attipas also helps the development of cognitive and motor skills through free movement of toes inside the sole. It provides more flexibility, comfort and support compared to conventional shoes, provides better ventilation and more toe room compared to conventional socks and provides more protection compared to bare feet.
Venue: Singapore Expo Hall 5
11 - 12 Jan 2019 (11am-9pm) | 13 Jan 2019 (11am-8pm)