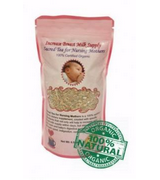 Sacred Tea for Nursing Mom
Sacred Tea for Nursing Mothers is the Number 1 Natural Selling Product in the USA.

Exclusively formulated to help mothers to increase their breast milk supply.

It has been Tested and recommend by Mummies and Professionals all over the world as a natural supplement for boosting of breast milk supply.
Venue: Singapore Expo Hall 5
11 - 12 Jan 2019 (11am-9pm) | 13 Jan 2019 (11am-8pm)