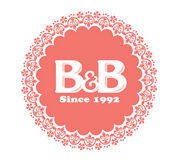 B&B
B&B also known BABY & BASIC is the most widely used logo amongst korean moms for infant-related household products.

B&B baby care products are free of dangerous materials and made from herbal substances most effective.

Characterized by means of its iconic pink packaging, B&B ranges from laundry and household products including baby detergent, cloth softener, soaps, stain removal, bottle cleanser to dental and infant care gadgets such toothbrushes, toothpastes, cotton buds and cotton swabs.

it tiers from Fabric Care, Home Care, Oral Care & Health Care for Parents Daily Care!

Venue: Singapore Expo Hall 5
11 - 12 Jan 2019 (11am-9pm) | 13 Jan 2019 (11am-8pm)