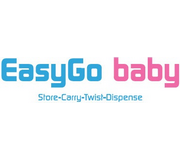 EasyGoBaby
EasyGo Baby™ will carry a full day's worth of infant formula, and is designed to easily fit into any diaper or tote bag.

The base storage unit keeps your infant formula fresh, preventing unwanted moisture or contamination.

The center metering unit easily dispenses precise amounts of formula to the upper funnel section and eliminates the need for scoops or funnels.

This ensures all of your formula goes directly into the baby bottle with no spillage. It is narrower in diameter than the EasyGo Pro™ for easy handling, and has a wider opening to quickly dispense formula into any baby bottle.

Our EasyGo Baby™ dispensers are currently designed for use with Similac and Enfamil baby formulas.
Venue: Singapore Expo Hall 5
11 - 12 Jan 2019 (11am-9pm) | 13 Jan 2019 (11am-8pm)