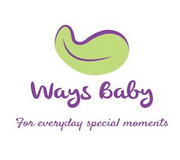 Ways Baby
Amy Zhang, the founder of Ways Baby, is a mother of one daughter and understands the hardship that every mother has to go through.

She knows that a mother's love for her child is strong that as long the child is able to grow up the best environment, any sacrifice that she has gone through is no great.

However, what is truly consider the best environment for the child? What current generation parents is truly forgetting that is important is to bonding with between the parents and the child.

The word 'Ways' in Ways Baby has three different important meaning, 'Bonding', 'Method' and '?'.
Venue: Singapore Expo Hall 5
11 - 12 Jan 2019 (11am-9pm) | 13 Jan 2019 (11am-8pm)