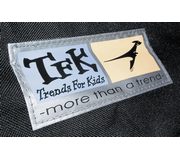 TFK
The TFK success story - From the idea of not limiting ones own children during sport, TFK was launched in 1997.

TFK quickly developed into a brand that stands for innovation, a spirit of time and a sporting lifestyle.

The market followed and so today the 3-wheel sports or baby carriages have a high priority. The sports car is not always a jogger, but it always carries a modern lifestyle.

Today's jogging offers a considerable variety of models and concepts. Differences in the quality and use of the various brands are becoming more and more evident in this context.

TFK is the innovative force in the field of joggers and meets the high, technical and qualitative demands for many years.

The Trends For Kids kangaroo is a quality mark!
Venue: Singapore Expo Hall 5
11 - 12 Jan 2019 (11am-9pm) | 13 Jan 2019 (11am-8pm)