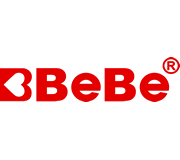 BEBE
BeBe - Where it is truly all about your precious little ones' best lifestyle, pampered in every season and occasion!

Renowned for good quality, comfort and trendsetting style, our apparel and accessories cater to your newborns, infants, toddlers needs and yet remains practical for today's modern parents who want the best for their children.

Our baby products of exclusive design range from clothing, shoes, baby care and feeding accessories, newborn gift box to mother bags and many more.
Venue: Singapore Expo Hall 5
11 - 12 Jan 2019 (11am-9pm) | 13 Jan 2019 (11am-8pm)