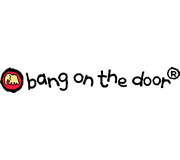 BANG ON THE DOOR

Bang on the Door founded by two designers, Karen Duncan & Samantha Stringle, in a cold flat above a butchers shop in North London.

The brand starts with the sale of t-shirts on a stall at Camden Market.

The strong, simple & humourous images of animal.

A character based art & design company, we design characters for products that cater for babies, younger children, tweens to teens, up through to adults.
Venue: Singapore Expo Hall 5
11 - 12 Jan 2019 (11am-9pm) | 13 Jan 2019 (11am-8pm)