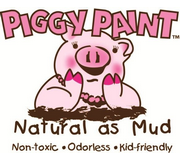 Piggy Paint
My name is Melanie Hurley, founder of Piggy Paint. I am a mom with two very fancy little girls, ages 6 and 8, who love to have their fingernails painted.

I've always hated the thought of my kiddos putting their hands in their mouths after I painted their nails with traditional kid polishes.

Not only did the ingestion of the chemicals worry me, but the smell nearly left me light-headed after painting two sets of fingernails and toenails.

From my heart to yours, I hope Piggy Paint takes the worry out of painting your nails and puts the fun back into this enjoyable activity you can share with your daughter and other precious girls in your life.

Say good-bye to harsh, smelly chemicals and hello to Piggy Paint . . . it's as Natural as Mud®!
Venue: Singapore Expo Hall 5
11 - 12 Jan 2019 (11am-9pm) | 13 Jan 2019 (11am-8pm)